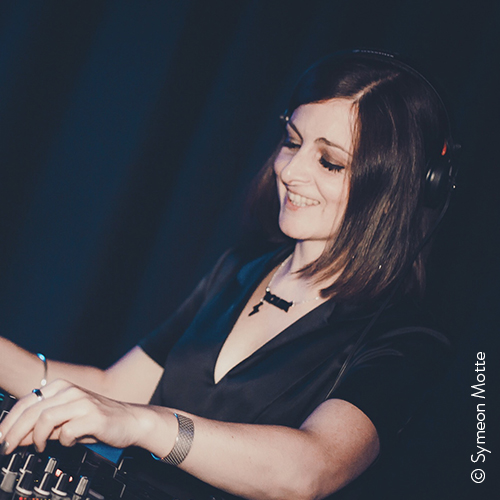 LOLITA MONTANA, musique (DJ set)
Active depuis les années 2000 sur la scène électronique. De la House à la Techno, en passant par l'Electro, l'Electronica ou le Downtempo, elle joue une musique pointue et mélodieuse, faisant la part-belle à la scène musicale anglo-saxonne, riche et avant-gardiste, à laquelle elle voue depuis toujours une véritable admiration.
Influencée par les labels Ninja Tune, Warp, Phantasy, Border Community, XL recordings, Kompakt, Versatile, F.Com… ; par des artistes tels que Björk, Bonobo, Massive Attack, Andrew Weatherall, Boards Of Canada, Erol Alkan, Laurent Garnier, Amon Tobin, The Chemical Brothers… et affiliée au disquaire Pinguins Records, Lolita fait ses classes à La Villa Rouge, club de référence montpelliérain, puis évolue aux côtés de têtes d'affiche sur les scènes du grand sud. Elle se révèle tout aussi à l'aise dans des œuvres contemporaines et intimistes. En 2006, elle collabore avec la Cie Michèle Murray sur la pièce VELVET, en tant que DJ et interprète, ainsi qu'avec « Kill The baby » – collectif Post Partum, avec lequel elle est lauréate pour la Biennale des Jeunes Créateurs de l'Europe & Méditerranée en 2009. En 2019, elle rejoint la programmation de la webradio « Piñata » et intègre « Les Mixeuses Solidaires », un collectif féminin engagé qui lutte contre toutes formes d'inégalités.
Mélomane, playlisteuse, collectionneuse de vinyles, elle est aussi chroniqueuse pour des magazines consacrés aux musiques électroniques. Elle renouvèle sa collaboration pour la seconde fois avec PLAY pour EMPIRE OF FLORA en 2022.