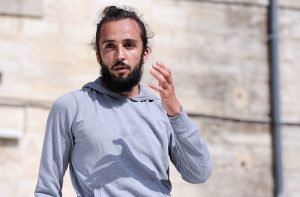 © Laurent Paillier
JONATHAN SANCHEZ studiert bei EPSE Danse unter der Leitung von Anne-Marie Porras in Frankreich. Im Jahre 2011 wird er zertifizierter Tanzlehrer. Seitdem wird er regelmäßig eingeladen, in Frankreich, Spanien und Deutschland, für verschiedene Workshops und professionelle Trainings zu unterrichten. Neben verschiedenen Kompanien und Projekten trat Jonathan zwei Jahre lang mit der Tango Sumo Group auf und tourte durch ganz Europa. Seit 2017 ist Jonathan Teil der Sita Ostheimer Company (SOCOMPANY) als Tänzer und Probenleiter, mit der er weltweit auftritt, neu inszeniert und die Arbeit der Company unterrichtet.
Er bewegt sich in verschiedenen Medien und war Preisträger beim POOL Internationales Tanz Film Festival Berlin 2018 für seinen Triptychon-Trailer von "Molimo" (Tanzstück von Sita Ostheimer) und eine zweite Nominierung im Jahr 2021 mit dem Video "everything that's left".
Als Choreograf arbeitet er derzeit an dem Stück "Ojala" im Auftrag von Anne-Marie Porras für ihre junge Kompanie. Zusammen mit Nadine Gerspacher choreographiert er außerdem das Duett "Bye bye Shelter!".
Seit 2014 ist er Tänzer bei PLAY / Michèle Murray und trat zuletzt in den Projekten ATLAS / STUDIES (2018) sowie DUOS / COLLISIONS AND COMBUSTIONS – A CHOREOGRAPHIC COLLECTION FOR THE MUSEUM (2021 / 2022) auf.