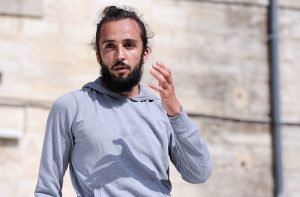 © Laurent Paillier
JONATHAN SANCHEZ studies at EPSE Danse under the direction of Anne-Marie Porras in France. He becomes a certified dance teacher in 2011. Since then, he has regularly been invited to teach in France, Spain and Germany for various workshops and professional trainings. Among different companies and projects, Jonathan performed and toured for two years across Europe with the street-performing company Tango Sumo Group. Since 2017, Jonathan has been part of the Sita Ostheimer Company (SOCOMPANY) as a dancer and rehearsal director, performing, re-staging and teaching the company work across the world.
Moving in different medias, he was a prize taker at the POOL Internationales Tanz Film Festival Berlin 2018 for his triptych-trailer of "Molimo "(dance piece by Sita Ostheimer) and received a second nomination in 2021 with the video "everything that's left".
As a choreographer, he is currently working on the piece OJALA commissioned by Anne-Marie Porras for her young company. Together with Nadine Gerspacher, he also choreographs the duet BYE BYE SHELTER!
He has been a dancer with PLAY / Michèle Murray since 2014, performing most recently in the projects ATLAS / STUDIES (2018), as well as DUOS / COLLISIONS AND COMBUSTIONS – A CHOREOGRAPHIC COLLECTION FOR THE MUSEUM (2021 / 2022).