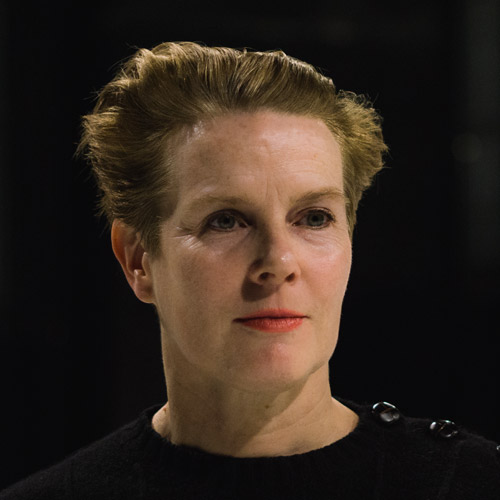 © Julien Reyes
MICHELE MURRAY is a choreographer and artistic director of the PLAY / Michèle Murray Company. A Franco-American national, she trained first in Düsseldorf in classical ballet , then in New York with Merce Cunningham and at Movement Research, later on with many teachers and choreographers in Paris before collaborating on various choreographic projects as a performer, notably with "l'art not least" in Berlin, Didier Théron in Montpellier and Bernardo Montet at the Centre Chorégraphique National de Tours. Since 2008, she has also been working as choreographic assistant with Didier Théron.
From 2000 onwards, she develops her personal work within the Michèle Murray Company, which becomes Murray / Brosch Productions in 2008, in artistic collaboration with Maya Brosch. She has created numerous works which have toured extensively in Europe .
In 2012, wishing to concentrate on projects dedicated primarily to dance and choreography, she founds PLAY / Michèle Murray, of which she is artistic director and choreographer, while researching in close collaboration with artist coworkers.
She creates the ATLAS / STUDIES, a "choreographic atlas" of ten short pieces for seven dancers, which is presented for the first time as a whole as part of the Festival Montpellier Danse 2018.
In 2020, she choreographs WILDER SHORES, a performance for six dancers with a musical composition by Gerome Nox for the Festival Montpellier Danse 2020.
In 2022, she creates EMPIRE OF FLORA, a choreography for four dancers and a DJ with a premiere at the Montpellier Dance Festival 2022.
In 2022, she also created DUOS – COLLISIONS AND COMBUSTIONS / A CHOREOGRAPHIC COLLECTION FOR THE MUSEUM, of which a first iteration for ten dancers took place at the Brandenburgisches Landesmuseum für Moderne Kunst- DKW Museum Cottbus on October 1-2, 2022, as part of the Dance in Residence Brandenburg program, Germany.
In April 2023, she will choreograph  DANCEFLOOR, a dance piece for the 26 performers of the Ballet de Lorraine – CCN Nancy.
Michèle Murray also teaches dance and performance art. Her teaching is closely linked to her choreographic research.
Enregistrer